We are pleased to announce we've made significant improvements to the behavior of all channels as well as an additional configuration option to the Facebook Messenger Channel.
Standardization of Channel Behavior

We have introduced a new standardized behavior for all channels. This enhancement ensures that only supported conversational messages and ad events will open a conversation. Such events include:
Facebook Chat menu button clicks
Adding a friend on Line, WeChat, and Viber
Get Started actions on Facebook, Telegram, and Webchat.
As a result, unsupported messages, story reactions, non-ad referral events, and postback events will no longer open conversations, saving your agents' time.
Legacy Channel Behavior Toggle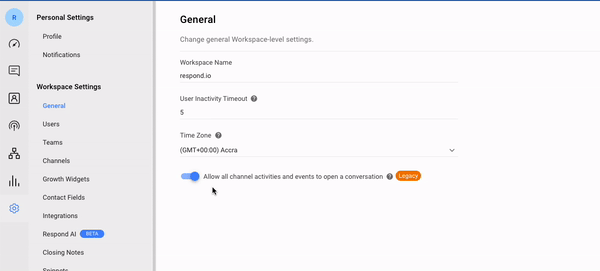 To ensure minimal disruptions to your workflows and operations, we have included a toggle in
Settings > Workspace Settings > General
to enable legacy channel behavior in this update. For existing workspaces, the toggle is switched on by default to maintain the existing channels' behavior to your existing Workflows automation. However, note that this legacy behavior will be deprecated in the near future.
If you wish to experience the new standardized behavior and allow only supported conversational messages and ad events to open a conversation, turn off the toggle.
Get Started Facebook Toggle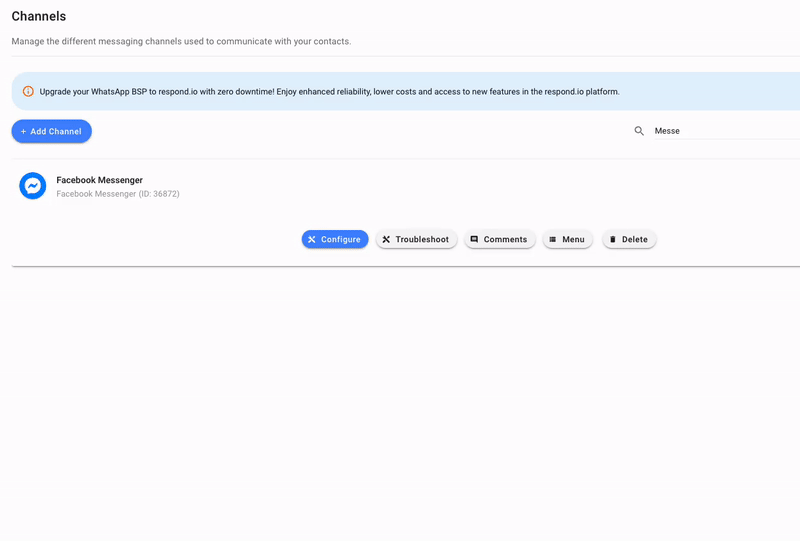 We have introduced a new toggle in your Facebook configuration. When toggled on, your customers will see a welcome screen when they land on your business's Facebook Messenger chat.
The welcome screen includes the name and responsiveness of your business, the profile picture and cover photo from your Facebook Page, an optional greeting message, and the 'Get Started' button for customers to start chatting with you easily.
With these updates, we aim to provide a more efficient and consistent conversational experience for all users across various channels. For inquiries or assistance, feel free to
contact our support team
.