Since
respond.io
became a WhatsApp Business Solution Provider, we have prioritized releasing new features that add value to
respond.io
WhatsApp Business API. This platform release revolves around improving the WhatsApp Message Template functionalities on
respond.io
, with a few extra surprises thrown in.
What's New for WhatsApp Message Templates
WhatsApp Message Templates play a pivotal role in business messaging for many of you. Here's all that's new for WhatsApp API users on
respond.io
:
Location-based Message Template Headers
Message Template Labels + Label Search Filter
Auto-sync Message Templates
Edit and Delete Message Templates
View Message Template Quality
Recently Used Template Messages
Location-based Message Template Headers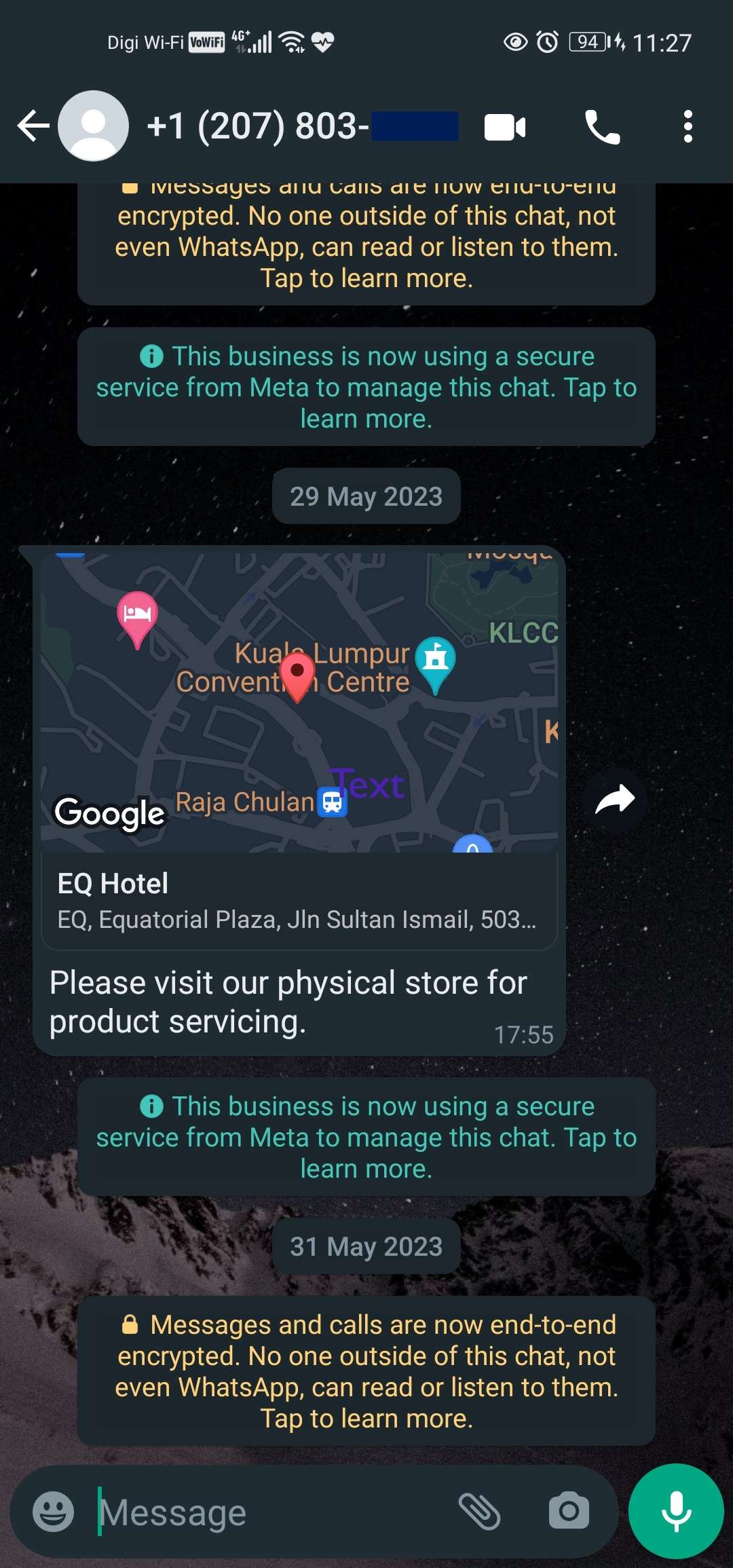 Some business verticals benefit from sharing locations with customers via WhatsApp. For example, healthcare companies can use it to direct a customer to the nearest center. It is also useful for shipping companies to confirm a delivery location.
Sharing location information with customers is now possible with the introduction of Location-based Template Headers. To create a Message Template with a location, select the Location Header during the Template creation process. After clicking Submit Template, you'll need to enter the Google Maps coordinates of your desired location.
This
respond.io
feature is supported for the following WhatsApp BSPs:
respond.io
, 360dialog and Vonage, as well as WhatsApp Cloud API.
Message Template Labels + Label Search Filter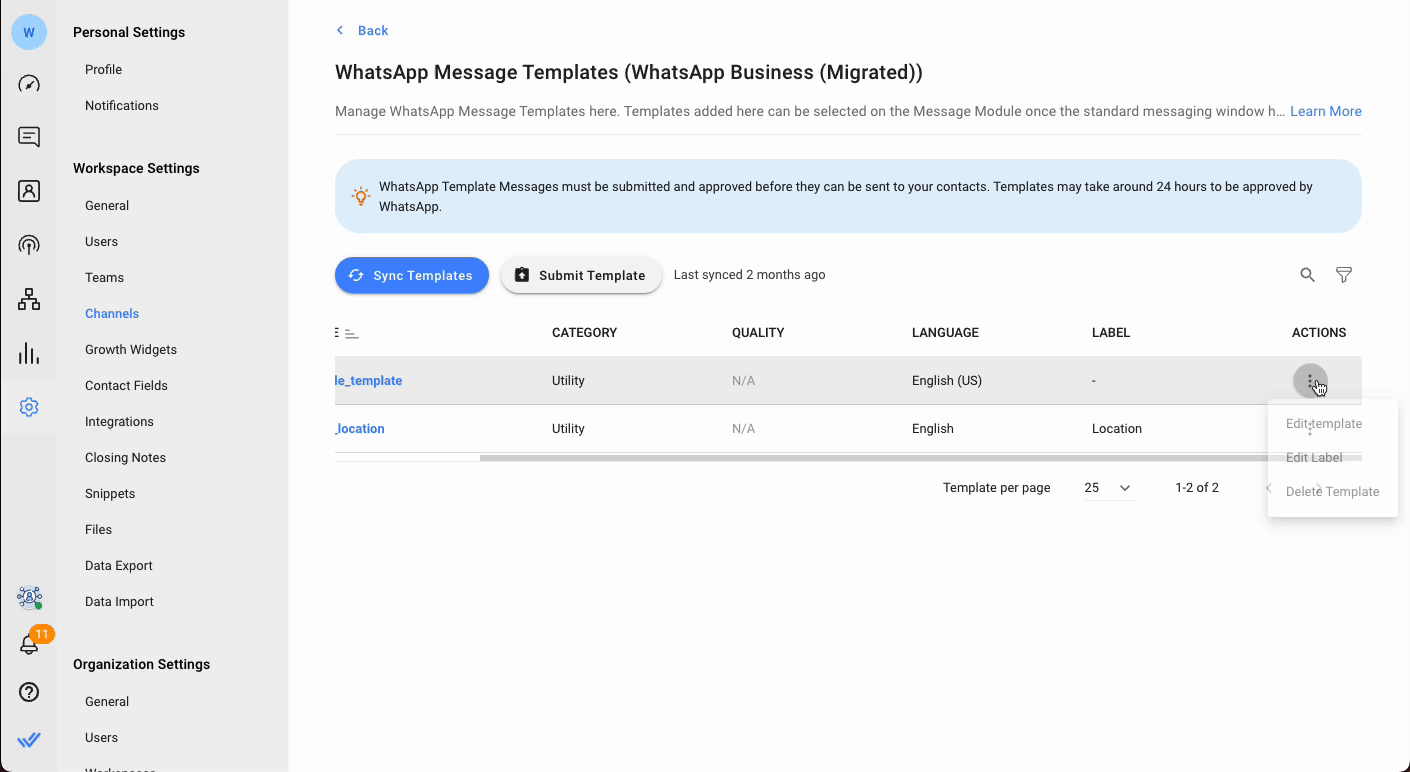 Previously, you could not label your Message Templates. You can now add one or more labels to new or existing Message Templates for easy categorization.
Similarly,
respond.io
users could previously only filter Message Templates by status, language and category or search for templates by name via the search bar. With the introduction of labels, you can use the new Template filter next to the search button to find Templates with specific labels.
Auto Sync Message Templates
To update the Message Template status in
respond.io
, users had to manually synchronize them. This task was at times overlooked, resulting in users having outdated information about the Message Templates status.
This is no longer an issue for
respond.io
WhatsApp Business API users. Now, it is not required to manually sync Message Templates to get the latest Template status. Instead, Message Templates will be automatically synced and the latest status will be reflected on the platform.
Edit and Delete Message Templates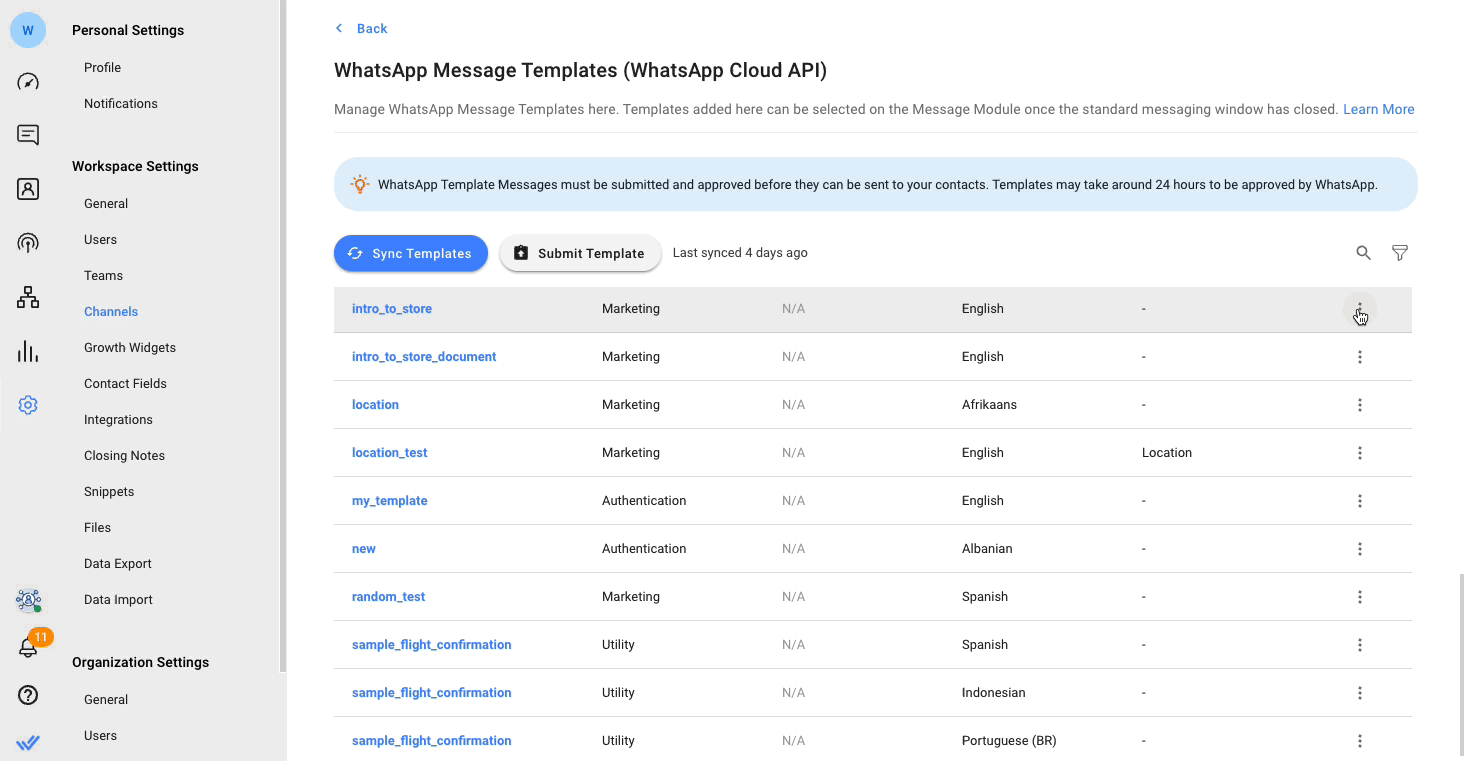 The inability to edit a Message Template required users to delete the existing template in Meta Business Manager and create a new one from scratch. This not only increased workloads but also hampered the efficiency of Message Template management.
For convenience, you can now delete Message Templates and edit the content of approved, rejected or paused Message Templates on
respond.io
. Once edited, they can be resubmitted for approval.
These features are only available for
respond.io
WhatsApp Business API and Cloud API users.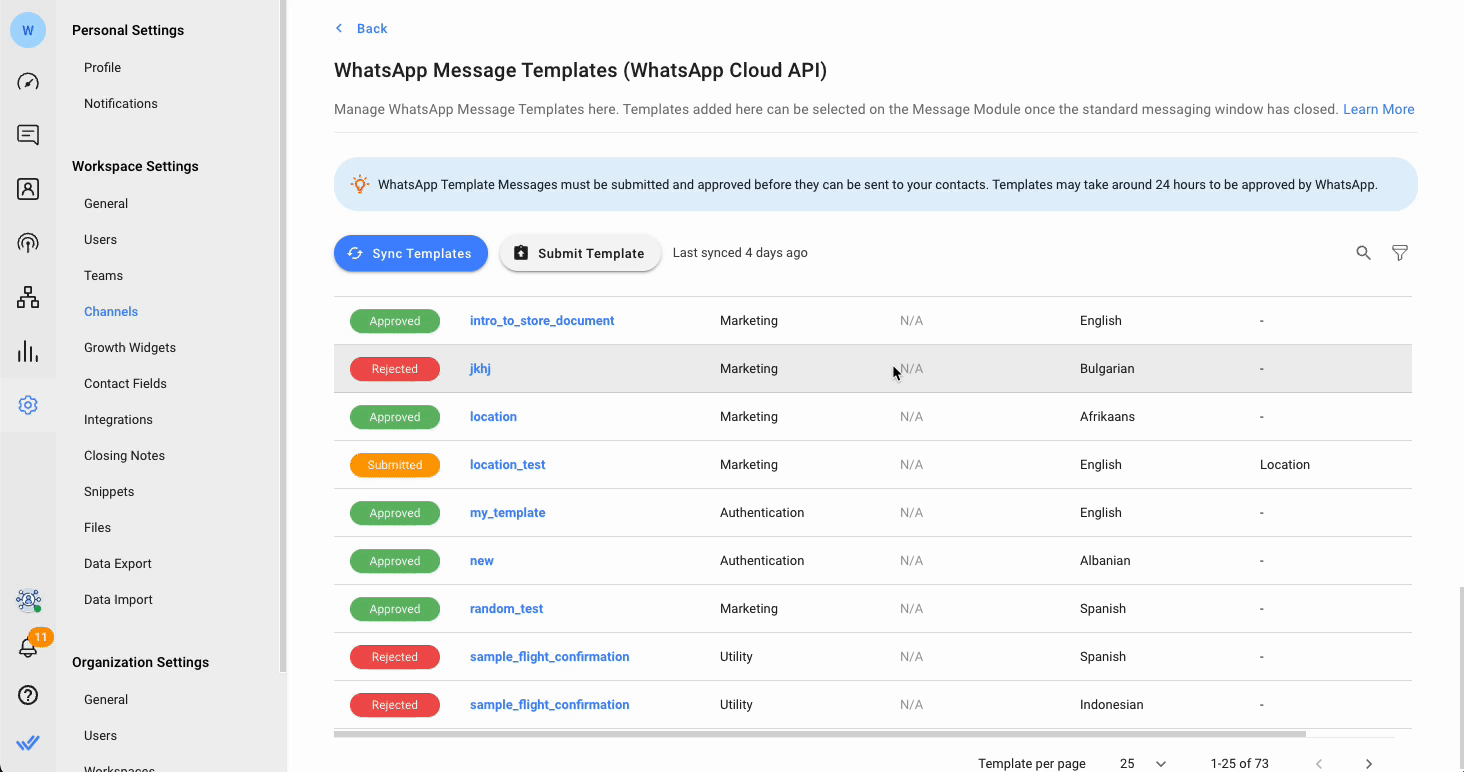 View Message Template Quality
Every Message Template has a quality rating based on usage and customer feedback. Having insight into Message Template quality allows businesses to identify which ones to improve. Plus, businesses can learn about Message Template best practices by analyzing their high-quality Message Templates.
Here's another convenient change: While in the past businesses needed to visit Meta Business Manager to check Message Template quality, it is now possible to view it on
respond.io
's Message Template listing.
Recently Used Message Templates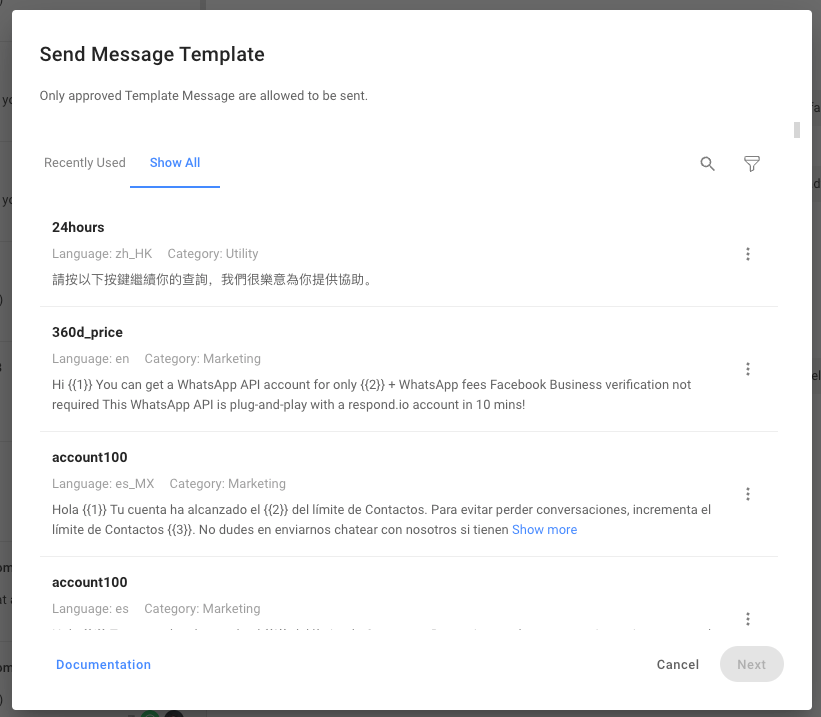 Although businesses might have a large number of approved Message Templates, they often end up sending a group of selected ones with higher frequency. In the past,
respond.io
users had to use the search button to find the same Message Template every time they needed it.
To streamline your messaging experience and save you time, we have introduced a list of recently utilized Message Templates within the Messages Modules. By clicking on the Send Message Template button, you now have the option to select from the top 10 recently used Message Templates. This enhancement simplifies your search process and ensures quick access to frequently used templates.
Other Miscellaneous Improvements
That's not all! There are two new
respond.io
WhatsApp Business API improvements plus a new update to the Workflows automation builder.
New WABA Profile Field: About
WABA Phone Number and Name Auto Sync
New Workflow Question Type: Location
New WABA Profile Field: About
Respond.io
WhatsApp Business API and Cloud API users can now update the About section of their WhatsApp Business Account profile on
respond.io
. This section should be a clear and concise description of your business. Customers will see the About section under your profile image, phone number and contact buttons.
WABA Phone Number and Name Auto Sync
We have added an improvement to ensure that your Contacts see your most up-to-date WhatsApp phone number and name. Once you update these items in Meta WhatsApp Manager and they are approved, they will automatically sync with
respond.io
.
New Workflow Question Type: Location
Lastly, Workflows has also received a promising new addition in this platform update.
Location
is a new question type you can choose on the
Ask a Question
Workflow Step. With it, businesses can request the customer's location and save it as a Variable or Contact Field. As mentioned earlier, we are confident this improvement will please e-care, e-commerce and shipping companies among others.