The new and improved Zapier integration is now available! 🥳 Here's your ticket to building more comprehensive automation with over 5,000 applications. Updates include more triggers and a host of actions on the application or
respond.io
for more intuitive use.
To get the new version of the Zapier integration, go to
Settings > Integration > Zapier.
Generate an API key that will authenticate your Zapier account with
respond.io
.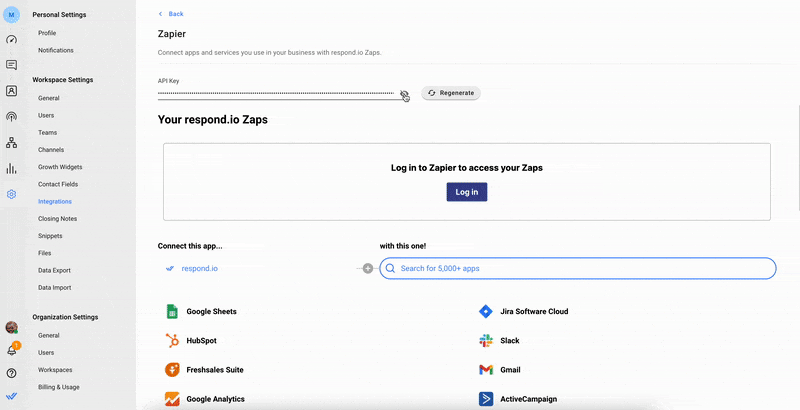 Previously, the Zapier integration only supported two triggers: New contact created and New or Updated Custom Field. The range of new triggers makes a variety of use cases possible:
New incoming or outgoing message
Conversation opened or closed
New contact is added
Existing contact is updated
Contact tag is updated
Contact assignee is updated
New comment is added for a Contact
In a similar fashion, the legacy Zapier integration did not allow for any actions to be performed. The new integration supports a host of actions to choose from, including:
Create or update a contact
Find a contact
Delete a contact
Send a message
Add a comment
Add or remove a tag
Update assignee
Update conversation status
And many more!
Check out the Zapier application page
here
to explore all the available triggers and actions. Keep an eye out for the
respond.io
Zapier templates coming soon to help you get started with popular applications such as Hubspot, Shopify, Magento, Salesforce and Pipedrive among others.
Respond.io
's legacy Zapier integration will be deprecated on 22nd of March.
Fret not, existing users — Zaps that currently use the legacy Zapier integration will continue to run until the deprecation date. To ensure no disruption to your workflows, we encourage you to update all existing Zaps to access the new triggers and actions.