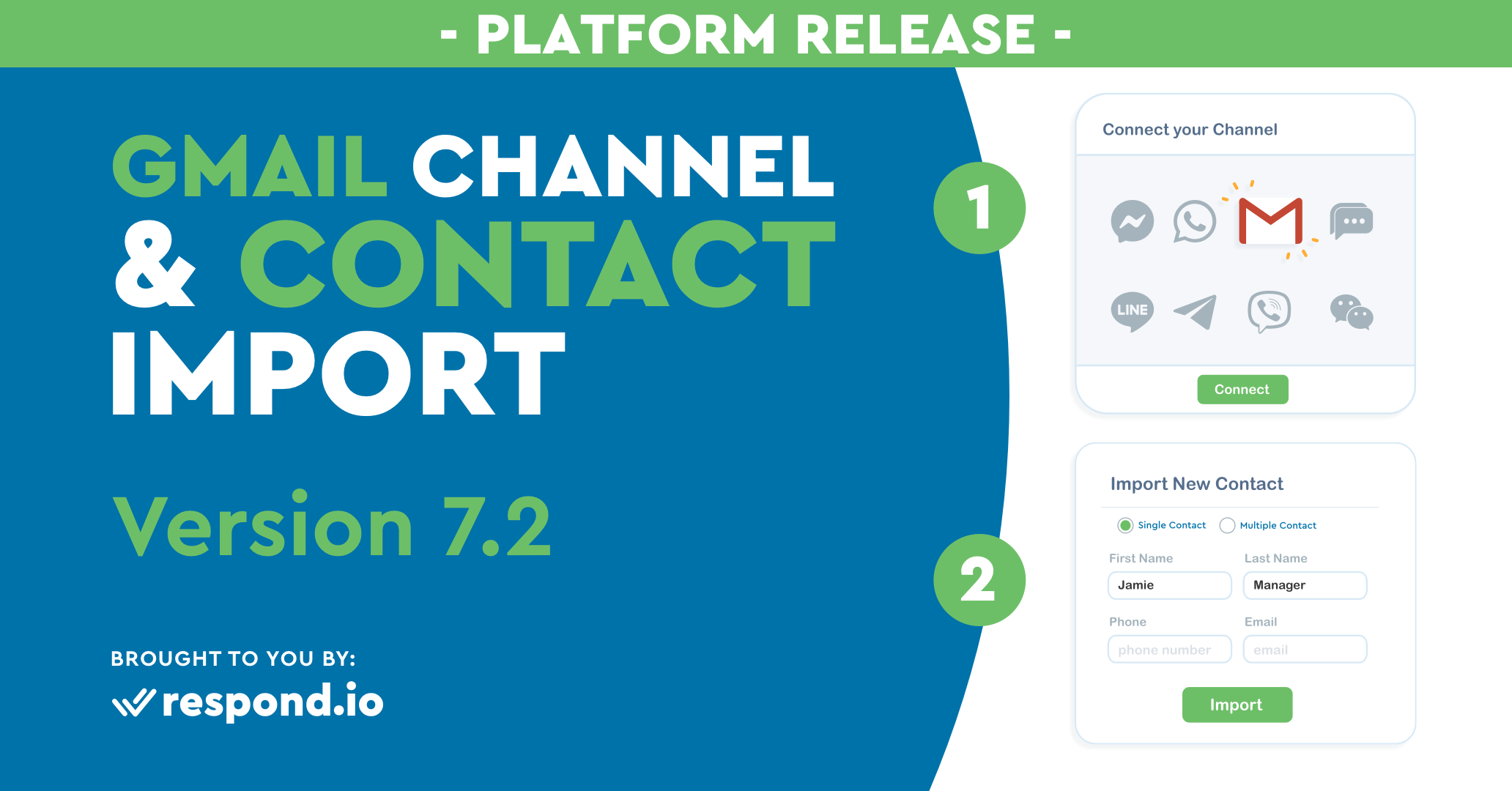 Hello everyone, we are entering Q4 of 2020 and the team is still striving hard to build some more exciting features for all of you out there. To kickstart this quarter, we have completed some features that were highly requested so check it out below :
[NEW] Gmail Channel Integration
- You didn't hear me wrong, we have finally integrated Gmail as a messaging channel on
respond.io
! It is one of the long-awaited features of all time and we took quite some time to plan this integration to make sure we do it right. We will be releasing this feature in Beta version so that we can continue to improve the experience for all of you out there. Connect your Google account now and start receiving your emails in the platform. Refer
here
on how to connect Gmail!
Note: This feature is still currently in BETA release and undergoing verification by Google Cloud team. You might be presented with "The app isn't verified" during the connection process.
[NEW] Contacts Import to SMS, WhatsApp and Gmail channel
- Oh yes, now you can add a single contact or import multiple contacts to channels that use phone number and email as the primary identifier. You can now initiate conversations with your contacts on the platform and in addition to that, you can also send a broadcast to new contacts too!
(Selected channels only)
Another bonus is you can also sync your contacts to the platform so that you can identify them quickly when they send you a message. Learn more
here
and start importing contacts to your space!
[NEW] HUMAN_AGENT tag
- Good News! We have been accepted into Facebook's HUMAN_AGENT Tag Closed Beta program and we are so excited to share this feature with all our users out there! This new tag will allow our
respond.io
users to extend their Messenger contacts' messaging window from 24 hours to 7 days! Now when you send a message to your Messenger contact 24 hours after the last reply, your message will be automatically tagged with HUMAN_AGENT tag until 7 days after contact's last reply.
[IMPROVED] Camera Access for Files
- For those who would like to upload pictures or videos on the go, lucky you! Our mobile app now allowed you to upload pictures and videos directly from your camera.
[IMPROVED] File Uploader and Image Preview
- Previously there were a few flaws with the existing file uploader and image preview, so we decided to upgrade this tool to meet all your file needs. We hope this upgrade will improve your experience with the platform.
and also some teeny weeny bugs that is not your concern. Cheers!