Workflows: Allow Click-to-Chat Ads Triggers
complete
Business problem:
Customers want to give personalized experiences to their contacts based on the ads they came from. However, they don't know which ads their contacts clicked on, so they struggle to provide relevant context during conversations or create workflows to handle click-to-chat ad messages.
Desired outcome:
Click-to-chat ad messages as triggers to workflows
Handling click-to-chat ad messages with no workflows defined by showing the ad link with the incoming message
Use Cases:
Enable WhatsApp or Facebook Ads To Trigger an Ad-Specific Workflow
Inform agents about the ads they are receiving a message for.
Limitation/blocker of our platform:
Only these channels have ads capabilities: Instagram, WhatsApp, Facebook Messenger
There is a limitation on how many workflows can be created per workspace, thus creating a workflow for each individual ad might not be feasible
The current workaround:
Currently, there will be a link to go to the Ad if the conversation is opened by Ad
Y
marked this post as
complete
Y
marked this post as
in progress
S
Merged in a post:
Show the ads campaign source and details of every lead received
Basically, when I advertise on Facebook and Instagram is possible to see where the lead came from, from which campaign, video and stuff. This helps to check what ads has more conversions and should be possible to us to store the campaign parameters in the contact field.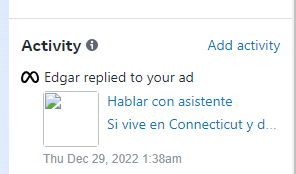 marked this post as
planned
Merged in a post:
Enable WhatsApp Ads To Trigger an Ad-Specific Workflow
I
Click to WhatsApp Ads use a different method for passing information than Facebook Click to Chat Ads.
Therefore the Event Reference trigger cannot be used to create an Action specific to a WhatsApp Ad.
Please enable a method for triggering a specific workflow based on the WhatsApp Click to Chat Ad a Contact came from.
Merged in a post:
Capturing references for identification purpose
We would love to send (webchat or FB) references to our backend. The use case is this: If we could save unique references (e.g a customer id) as a custom field and pass them via a webhook in automation, we could then use it for identifying our users against a 3rd party database.